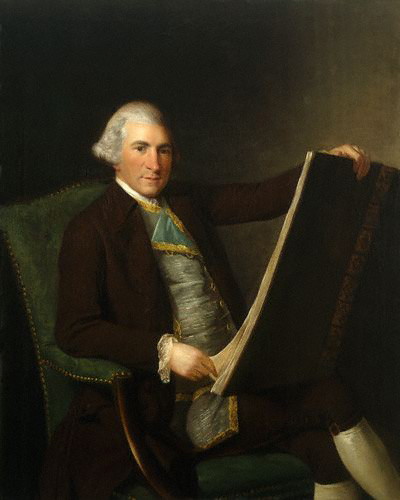 Robert Adam (3 July 1728 – 3 March 1792) was a Scottish neoclassical architect, interior designer and furniture designer. He was the son of William Adam (1689–1748), Scotland's foremost architect of the time, and trained under him. With his older brother John, Robert took on the family business, which included lucrative work for the Board of Ordnance, after William's death.
In 1754 he left for Rome, spending nearly five years on the continent studying architecture under Charles-Louis Clérisseau and Giovanni Battista Piranesi. On his return to Britain he established a practice in London, where he was joined by his younger brother James. Here he developed the "Adam Style", and his theory of "movement" in architecture, based on his studies of antiquity and became one of the most successful and fashionable architects in the country. Adam held the post of Architect of the Kings Works from 1761 to 1769.
Robert Adam was leader of the first phase of the classical revival in England and Scotland from around 1760 until his death.[2] He influenced the development of Western architecture, both in Europe and in North America. Adam was not content with providing houses for his clients but very ready to design the fittings and accessories as well.
Kedleston Hall. The south front by Robert Adam, based on the Arch of Constantine in Rome
Kedleston Hall was Brettingham's opportunity to prove himself capable of designing a house to rival Holkham Hall. The opportunity was taken from him by Robert Adam who completed the North front (above) much as Brettingham designed it, but with a more dramatic portico.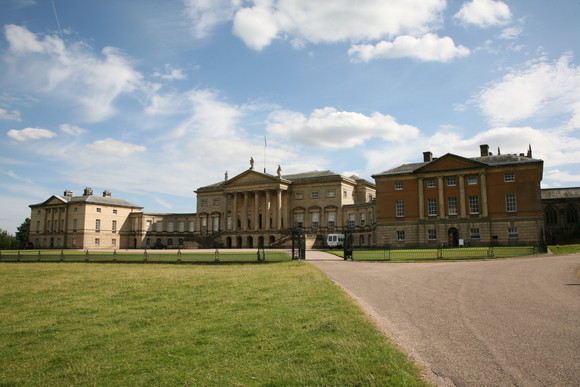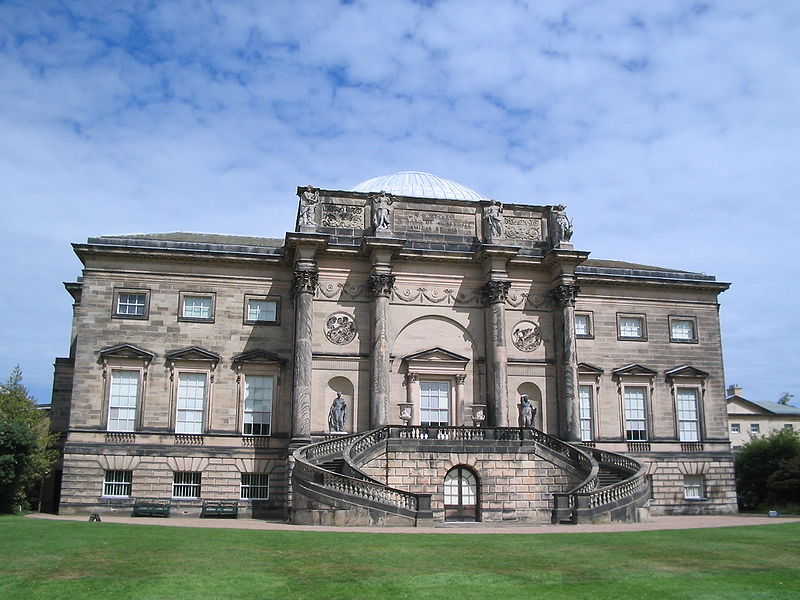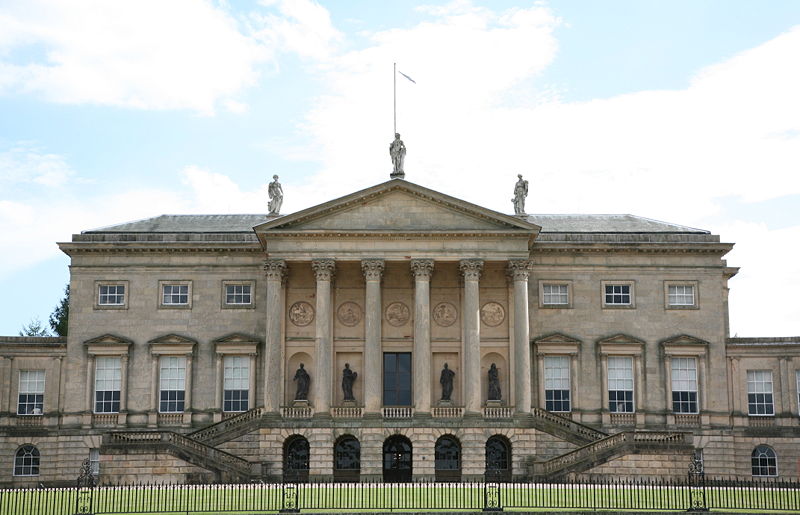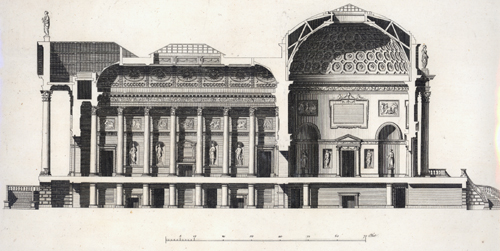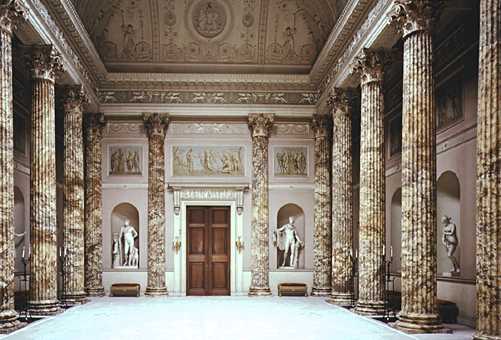 Kedleston Hall is an English country house in Kedleston, Derbyshire, approximately four miles north-west of Derby, and is the seat of the Curzon family whose name originates in Notre-Dame-de-Courson in Normandy. Today it is a National Trust property.
The Curzon family have owned the estate at Kedleston since at least 1297 and have lived in a succession of manor houses near to or on the site of the present Kedleston Hall. The present house was commissioned by Sir Nathaniel Curzon (later 1st Baron Scarsdale) in 1759. The house was designed by the Palladian architects James Paine and Matthew Brettingham and was loosely based on an original plan by Andrea Palladio for the never-built Villa Mocenigo. At the time a relatively unknown architect, Robert Adam was designing some garden temples to enhance the landscape of the park; Curzon was so impressed with Adam's designs, that Adam was quickly put in charge of the construction of the new mansion.
ベニシア・スタンリー・スミス(Venetia Stanley-Smith、1950年 - )はイギリス出身のハーブ研究家・英会話学校経営者である。夫は山岳写真家の梶山正である。また曽祖父の兄はイギリスの外相・インド副王( インド総督)だった大物政治家のジョージ・カーゾン 侯爵であり、祖父リチャード・ナサニエル・カーゾンはスカーズデール子爵であった。
生家はイギリスの名建築家ロバート・アダムが手がけたケドルストンホール(現在はナショナルトラストが管理)というカーゾン家のマナーハウスであった。海外などで生活を送った後、10歳の時にヒースフィールド寄宿舎制の女子校で学んだ。19歳の時に母国を離れてバックパッカーとしてインドに辿り着き、暫く現地でグルに従事しながら生活をしていたが、1971年に船で日本の九州南部に渡り、東京・岡山の生活を経て、1978年から京都で英会話学校の経営を始める。
1996年に大原に移住、これがきっかけとなり、テレビ・新聞・講演・カレンダーなどメディアを取り上げている。
by wikipedia